Cannabis Cultivation Management Software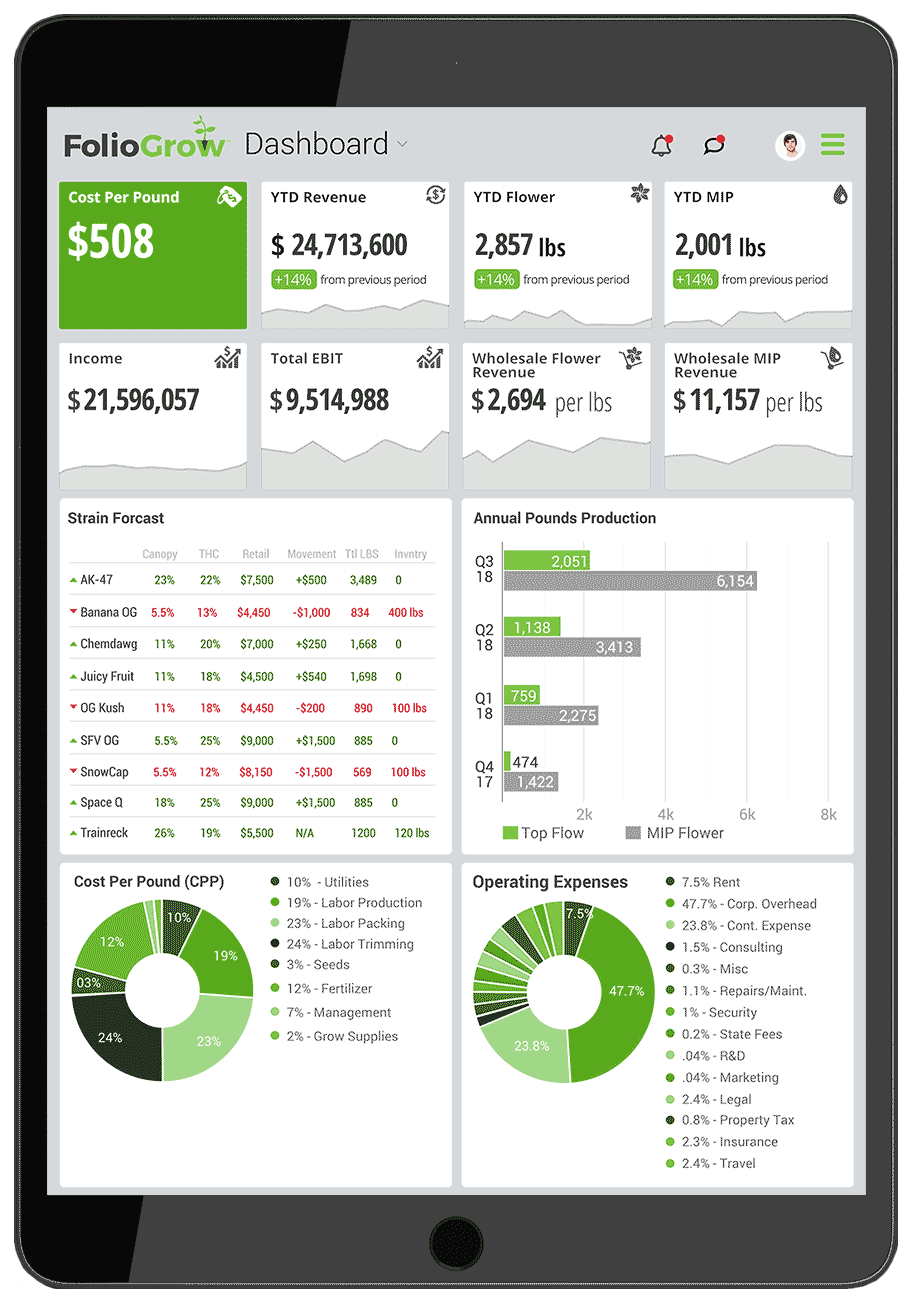 Intro
FolioGrow brings the ultimate growth mindset to your business. With our cannabis cultivation management platform, you are in control. You have the tools to see which processes and environmental factors contribute to plant growth. You have the tools to communicate with your employees and measure their success. You have the tools to see which strains are most profitable in the current market.
And you have this information in a continuously updating format that lets you make changes as needed to adapt to your plants' current needs and the market's shifting demands. From understanding that a particular strain does better with a slight increase in lighting to knowing that one specific employee is your fastest trimmer, you have information that can help you quickly make decisions that affect production and productivity. Optimize your business with the best in class, performance-driven cannabis manufacturing software. Grow your plants, grow your team, grow your profits with FolioGrow.
Cultivation is Complex
Cultivation management sounds simple when you are thinking in terms of lovingly tending one plant or a small garden. But when you have hundreds or thousands of living plants to manage for commercial cannabis cultivation, the complexity quickly becomes overwhelming. Software for growers must create
the structure that allows you to manage this complexity so that your plants and business can bloom and flourish.
Several tasks and variations add to the complexity of growing commercial cannabis:
Regulatory requirements for Seed to Sale tracking of each plant from its first planting, through growth, distribution and retail sale, mean every plant must be tracked individually.
Variances in the way care and environment affect different strains of plants – food, lighting, trimming, watering, CO2 and other factors may have to be adjusted for each strain.

Environmental challenges may affect the strains differently also – some plants may be more vulnerable to pests or fungi than other strains, for example.

Market demand can shift, with some strains becoming more or less popular than others, increasing or decreasing profitability of specific plants.

Employees vary in how long it takes them to complete specific tasks or in how much ongoing training they need.
The right cannabis grow software meets the challenge of this complex growing environment. Great cannabis software clarifies your goals, streamlines, organizes and tracks your plants, employees, procedures, and profits.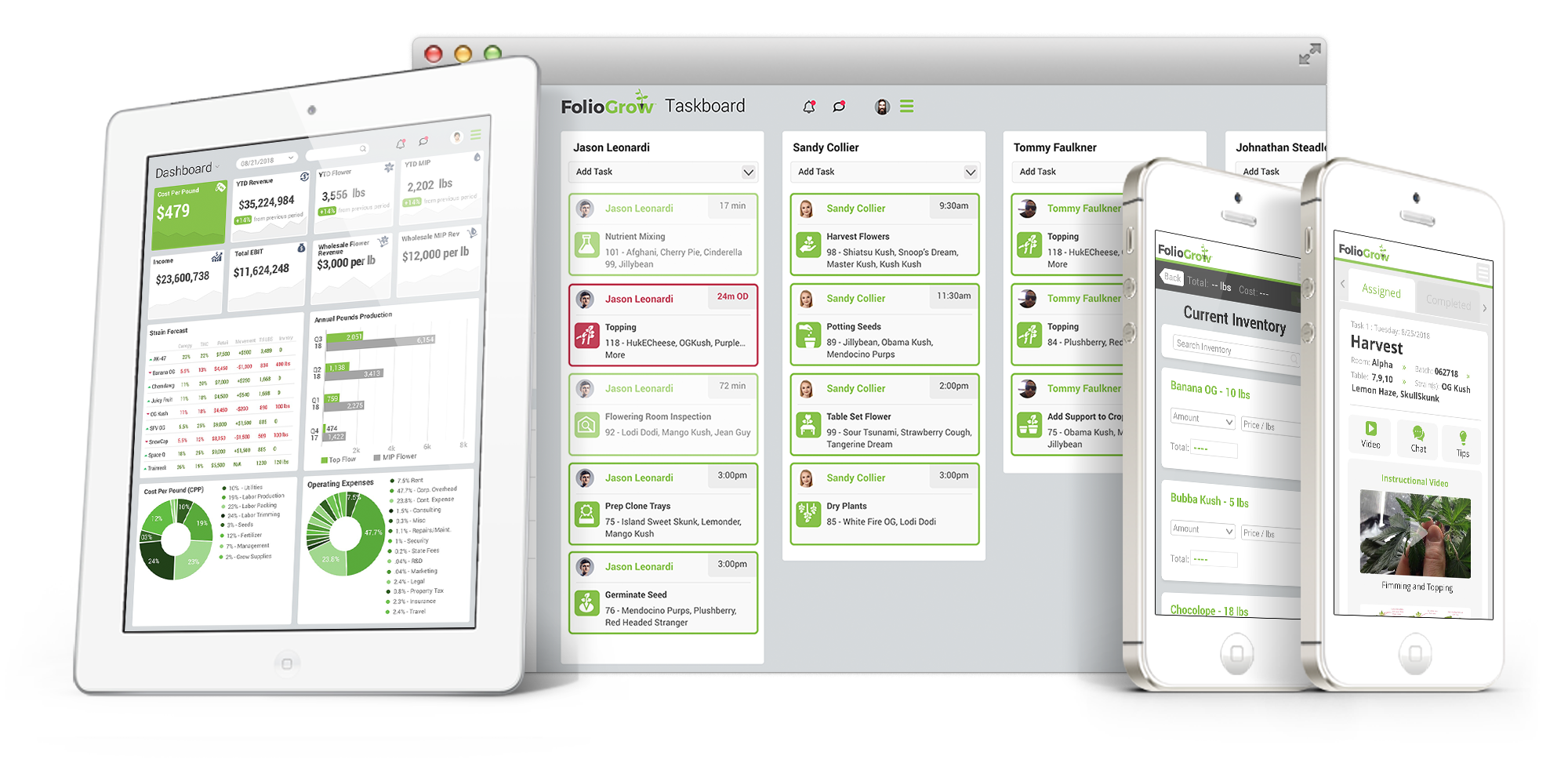 Why FolioGrow for Cultivation Software?
FolioGrow's cultivation management software simplifies and improves everyday processes for you, the end user. Our system does the hard lifting, letting you increase profits with less effort and stress.
First, our system is a cloud-based platform. This means that you use our service without having to make upfront software or hardware purchases. It also allows our system to interface with other systems that you might already be using, such as Quickbooks, keeping transitions simple. As an open platform product, FolioGrow can connect with any hardware or software solution that supports the use of APIs. This makes it adaptable to systems you may add later as well, providing ongoing flexibility.
Next, FolioGrow cuts through the noise and provides you with the most important information upfront in an easy to read, at-a-glance format. The Cost Per Pound (CPP) continuously updates and is prominently displayed. Profit performance by strain is displayed like stocks on a trading page. With FolioGrow's cannabis growing software, you can literally manage your plants like a stock portfolio. You have the information you need to make informed, real-time business decisions. This information is developed by using advanced math and algorithms to analyze information, but the end result is simple to read and interpret.
And this cultivation software tracks the details that lead to the market wins and losses. Feeding, lighting, trimming,, and other aspects of plant care and management are all tracked against the profit of each harvest. This provides marijuana farmers with the knowledge they need to grow better, more profitable crops and increase yields in the future. Applying horticultural analysis and technology for better crop care is a big part of agriculture for any crop, whether you are growing wheat or weed. The cannabis industry is at its heart an agricultural enterprise. Happy plants – happy customers!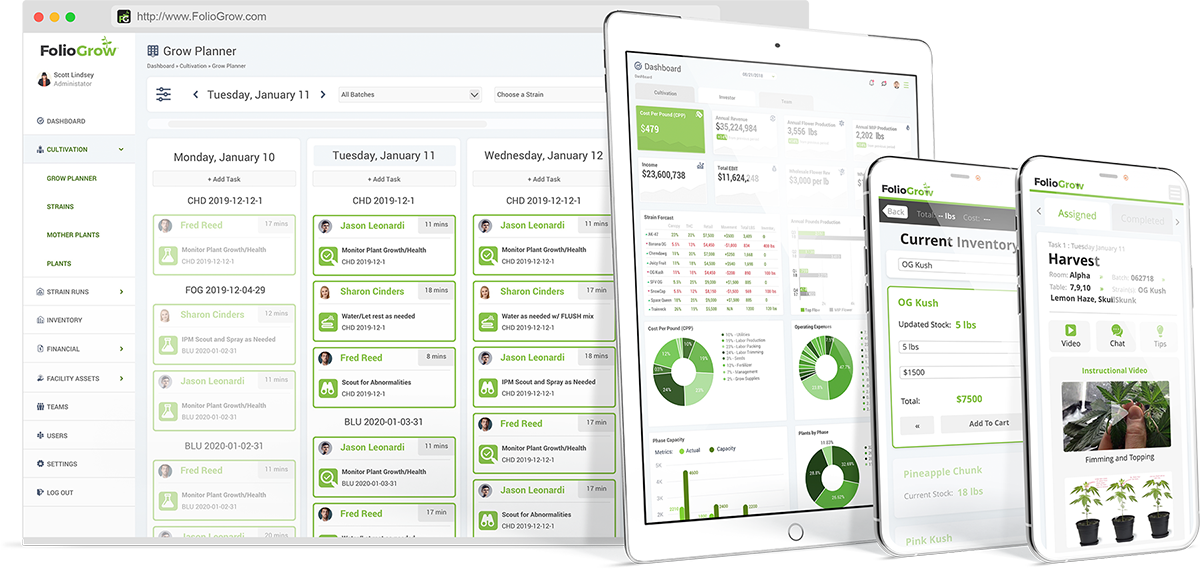 But to implement this knowledge, your business depends on your staff. Cannabis is a very labor-intensive crop. Information from marijuana growing software doesn't help if you don't have a consistent, dependable team to implement it. And even the most dedicated employees can't give you their best work if they don't understand what you need them to do. To be effective, marijuana producer software has to help you manage the employees who plant, tend, and harvest your plants.
FolioGrow's grow software does exactly that. It provides a simple to use system that staff members can download to their mobile phones. This system lets you assign tasks with specific instructions on the Taskboard. You and your employees can also chat and save notes. And you can place step-by-step training at their fingertips for easy access. If an employee needs to remember exactly how to trim a specific strain of marijuana, the info is right there in an instructional training video. And you can also see how long it takes employees to complete the assigned tasks. This lets you see who the most productive employees are almost immediately. And you can quickly identify the employee's strengths and weaknesses. You will also get an alert if tasks are not completed.
In addition to helping you care for crops and manage staff, FolioGrow helps you track your overhead and operating expenses. Paying rent, keeping the lights on, filing for regulatory licenses, maintenance costs, marketing, taxes, insurance – all the behind the scenes costs of running a business have to be calculated to know your true cost and profit for each harvest. FolioGrow provides all the tracking you need in software for the marijuana industry, calculating and analyzing your costs and showing you the percentage of each type of expense. With FolioGrow, you'll know where your money goes.
But most of all, you will be able to use all this knowledge to bring more money in. Grow your bottom line. Get FolioGrow.